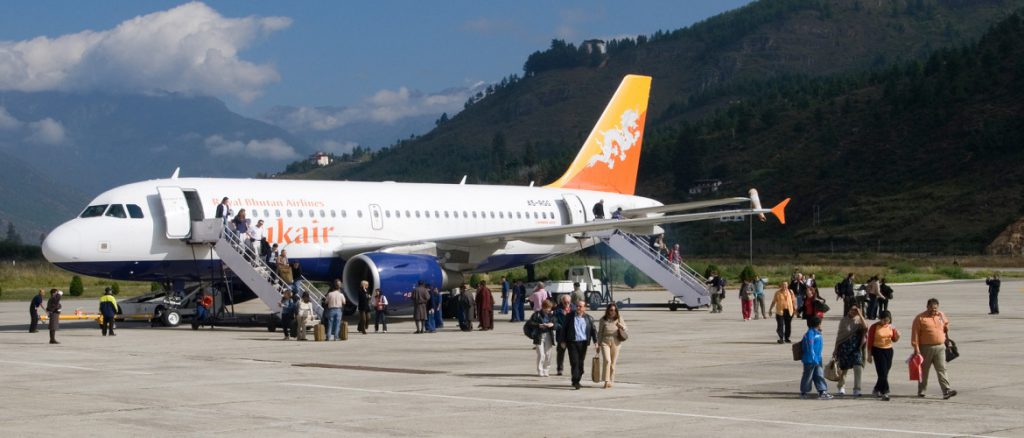 Travel By Land
Phuentsholing, Gelephu and Samdrup Jongkhar are the only land border areas open to tourists. 
The town of Phuentsholing in south-west is located approximately 170 km east of the Indian national airport at Bagdogra. After crossing Phuentsholing, you begin your journey to Thimphu, the capital city with travel time of about six hours for the 170 km stretch. 
Gelephu, in south-central Bhutan, is another entry point to Bhutan. It is approximately 250 kms from Thimphu and the journey will take you through the sub-tropical areas of Bhutan before entering the alpine zone and then finally into Thimphu. One will have to traverse across three districts and the travel time will be about ten hours. 
The district of Samdrup Jongkhar in south-east Bhutan borders the Indian district of Darranga, Assam and is approximately 150 kms away from Guwahati, the capital city of Assam. The journey from Guwahati is about three hours. Tourists entering Bhutan through Samdrup Jongkhar will take you to Trashigang, and from there over the lateral route to Mongar, Bumthang, Trongsa, Wangdue Phodrang and then finally into the capital, Thimphu. The distance is about 700 kms and will take you a minimum of three days to reach Thimphu. 
Travel By Air
There are flights to destinations that include Bangkok, Delhi, Kolkata, Bagdogra, Bodh Gaya, Dhaka, Kathmandu, Guwahati, Singapore and Mumbai. 
Paro is situated at a height of 2,225 m (7300 ft) above sea level and is surrounded by mountains as high as 4,876 m (16,000 ft). At present two carriers operate to Bhutan, Drukair and Bhutan Airlines. There are also domestic airports in Yonphula in eastern Bhutan, Bumthang in central Bhutan, and Gelephu in south-central Bhutan. A second international airport is currently under construction in Gelephu along the southern border to India.  
Flying into Bhutan's Paro International Aiport is typically an exciting experience as the descent into Paro valley brings you closer to the mountain tops than most other flights in the world. The flight between Paro and Kathmandu is one of the most exciting ones as the aircraft passes over four of the five highest mountains in the world. In fine weather, as you soar higher up, you can enjoy the spectacular view of Mt. Everest, Lhotse, Makalu and Kangchenjunga at their best.